When I click to edit / manage my favourites and I switch the display into list / details / tiles view, I can't see any of the text.
I can see the checkboxes & icons, but the text appears to be white. When I select a row, the row is highlighted in a background color and the white text can then be seen against the background.
I've tried other themes, however I get the same result.
When viewing in thumbnail mode, it works fine, however I prefer to use the detailed list display.
Here's a screengrab: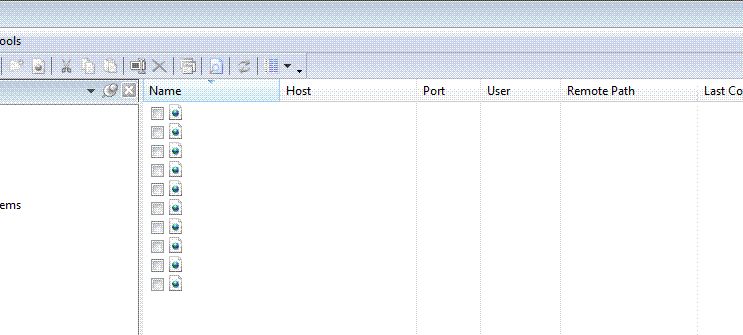 Any ideas would be appreciated.
Thank you.
Here's my system info:
+- System -----------------------------
Microsoft Windows Vista Ultimate Edition
(Build 6000)
CPU Speed : 1995 MHz
Total Memory : 2045 MB
Free Memory : 256 MB
+- SmartFTP ---------------------------
Version : 2.5.1008.40
Time Stamp : 2008-02-13 19:44:35
Platform : x86
+- Application DLL --------------------
sfFTPLib.dll : 1.5.12.24
sfFavorites.dll : 1.0.4.40
sfFavoritesShellExtension.dll : 1.0.1.5
sfTransferQueue.dll : 1.0.1.40
SmartHook.dll : File not found
+- Language ---------------------------
SmartFTP.exe : 2.5.1008.40
+- Internet Explorer ------------------
Version : 7.0.6000.16609
+- Winsock ----------------------------
Winsock : 2.2