Wissensbasis
Erstellt
Geändert

Artikel 2593
Installed product does not match
Problem
The following error is displayed when starting SmartFTP:
The installed product does not match the installed source.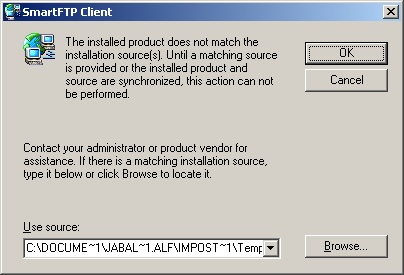 Solution
1. Uninstall SmartFTP (Start -> Control Panel -> Add/Remove Programs)
2. Install the latest version from Download
Schlüsselwörter
error msi setup installed
Ähnliche Artikel

---
What do you think about this topic? Send feedback!